Things to do in Huntsville AL: Often referred to as the "Rocket City," Huntsville, Alabama is a charming southern destination known for its rich history, cutting-edge technology, and picturesque scenery.
Home to the US Space & Rocket Center, the city has deep ties to the space program and offers fascinating exhibits for space enthusiasts. There are many wonderful things to do in Huntsville AL.
Huntsville's thriving arts scene, downtown shopping, and diverse dining experiences cater to a wide range of interests. Now let's take a look at all the amazing things to do in Huntsville AL. (Things to do in Huntsville AL)
Nature lovers can explore the beauty of Monte Sano State Park and the Huntsville Botanical Garden. Whether you're interested in science, culture, or outdoor adventure, Huntsville has a lot to offer. Let's explore what to do in Huntsville AL.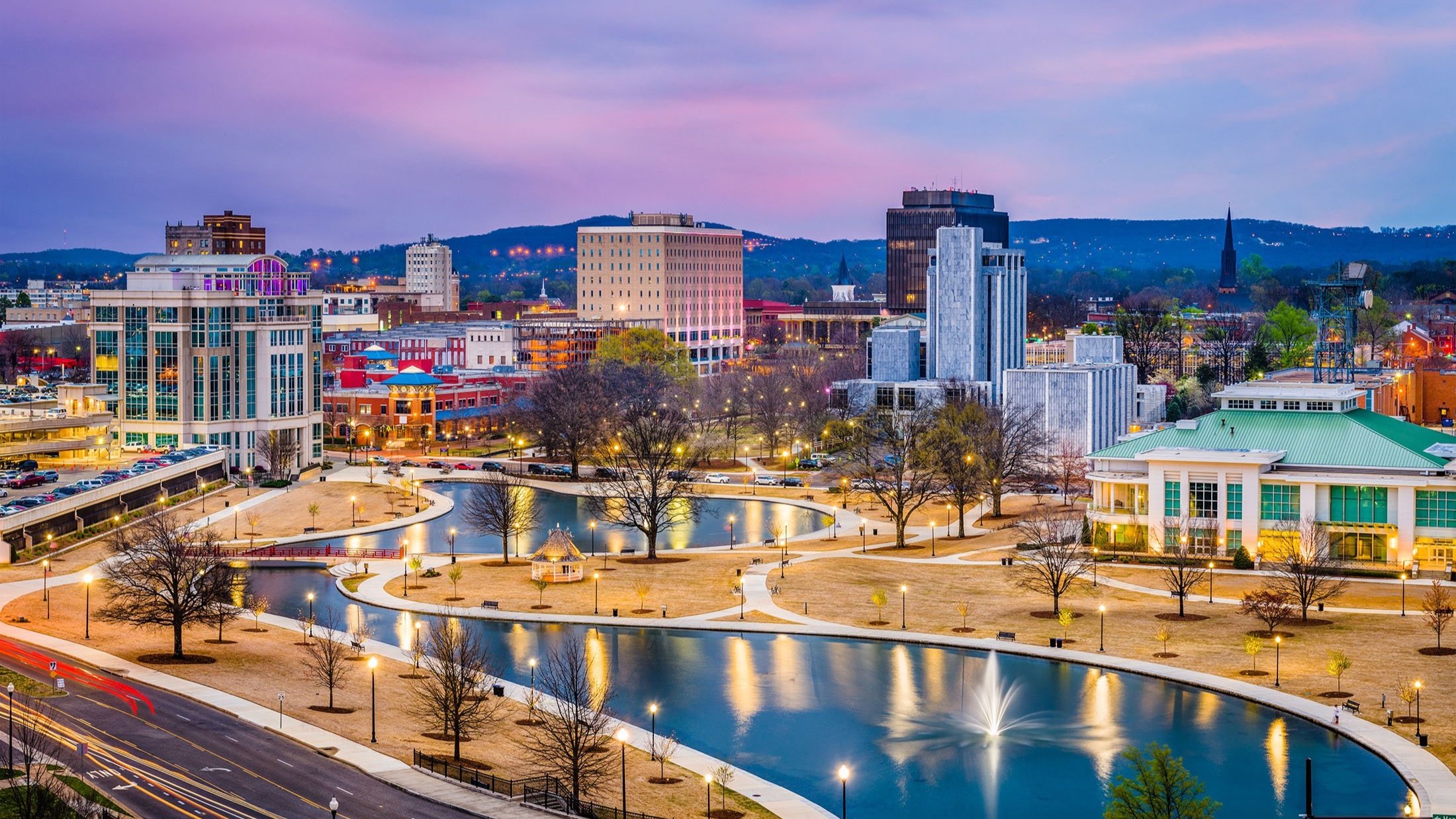 Things to do in Huntsville AL
From space exploration to outdoor adventures and cultural experiences, Huntsville has something for everyone. Here is a list of some of the best things to do in Huntsville AL:
Explore the US Space & Rocket Center: Huntsville is well known for its close relationship with NASA. The must-see America's Space and Rocket Center offers amazing exhibits, space artifacts, and even a chance to see an actual space shuttle. It is an exciting and educational experience for people of all ages.
Monte Sano State Park Hiking: This is a place to visit if you love the outdoors. Don't forget to bring your camera to document the beautiful scenery! It provides wonderful hiking trails, breathtaking views, and an opportunity to fully appreciate Alabama's natural splendor.
Historic Huntsville Depot Museum: To step back in time, visit the Historic Huntsville Depot Museum. It is an old train depot converted into a museum full of historical artifacts and exhibits. You can see historic locomotives, learn about the area's Civil War history, and even ride in an actual cab. (Things to do in Huntsville AL)
Arts and Entertainment at Lowe Mill: Lowe Mill is America's largest privately owned arts institution and is full of innovation. Whether you like art, music, or theater, you will find something that appeals to you. You can visit galleries, workshops, and shops full of unique and handmade items.
Huntsville Museum of Art: Art lovers can't miss the Huntsville Museum of Art. It boasts a diverse collection of American art, featuring paintings, sculptures, and more. The museum also offers workshops and events for both adults and children, making it a perfect family outing.
Explore Historic Downtown Huntsville: Downtown Huntsville is brimming with charm and character. Take a leisurely stroll through the historic streets lined with boutiques, restaurants, and cafes. Be sure to check out the iconic Harrison Brothers Hardware Store, one of the oldest continuously operating hardware stores in the United States.
On the Mountain, Burritt: Burritt on the Mountain is a family-friendly living history museum and park. You can visit farm animals, take tours of historic buildings, and find out what it was like to live in the 19th century. The view of Huntsville from the top of the mountain is breathtaking, especially at dusk.
These were the few things to do in Huntsville AL. There are many other things to do in Huntsville AL, read us more to know about different interesting places to visit and add them to your list.
Famous Foods in Huntsville, AL
Among the things to do in Huntsville AL is also the amazing taste of the amazing cuisine it has. Here are a few local favorites:
Alabama Barbecue: Huntsville takes its barbecue seriously, and you can find delicious smoked meats like pulled pork, ribs, and brisket. The meat is slow-cooked to perfection and served with a variety of sauces, often spicy or sweet.
Hot Chicken: While Nashville gets all the glory for hot chicken, Huntsville has its own take on this spicy delight. The hot chicken here is usually fried to a crispy golden brown and then coated in a fiery hot sauce that is guaranteed to set your taste buds on fire. (Things to do in Huntsville AL)
Fried Catfish: Catfish is a Southern staple, and Huntsville serves it fried to crispy perfection. It is often accompanied by hushpuppies (fried cornmeal dumplings) and coleslaw.
Biscuits and Gravy: Southern comfort food at its best, Biscuits and Gravy is a breakfast favorite in Huntsville. Fluffy biscuits smothered in creamy sausage gravy make for a hearty and satisfying meal.
Shrimp and Grits: This recipe mixes a creamy, cheesy grits dish with juicy, spicy shrimp. It's a delicious combination of flavors and textures that highlights the South's passion for seafood.
Fried Green Tomatoes: These crispy slices of unripe green tomatoes gained popularity from the movie of the same name. They are a great Southern snack and are usually served with a cake remoulade sauce.
Pimento Cheese: This is a spread that is commonly used on sandwiches, burgers, or as a chip dip. It is made with cheddar cheese and pimentos, which are sweet red peppers.
Country fried steak: this is tender beef, breaded and fried until golden. It is usually served with mashed potatoes and a white sauce.
Sweet Tea: Huntsville offers sweet tea that tastes like dessert in a glass. It's basically iced tea with added sweetness, a traditional Southern drink.
Banana Pudding: This is a delicious dessert consisting of layers of vanilla pudding, whipped cream, sliced ​​bananas, and vanilla wafers. This creamy treat is sure to satisfy your sweet tooth. A sweet treasure for your tongue. (Things to do in Huntsville AL)
Read More: Things to do in Carlsbad: Exploring the charms of Southern California
Places to live in Huntsville, AL
Huntsville, Alabama, is a great place to live with various neighborhoods and communities to choose from. Things to do in Huntsville AL also include the visit of various popular places there. Here are some of the most popular places to call home in Huntsville:
Jones Valley: This neighborhood is well-known for its top-notch schools and family-friendly atmosphere. It's not as crowded as downtown, yet conveniences are still easily accessible.
Downtown Huntsville: If you like the hustle and bustle of the city, you might like Huntsville's downtown. There are restaurants, boutiques, and events.
Five Points: This is a trendy, old-world neighborhood with unique houses and a lively atmosphere. It's perfect if you're searching for something a little out of the ordinary.
Hampton Cove: If you'd prefer to live in a more affluent and tranquil area, Hampton Cove is a great choice. It is well known for its golf courses as well as its scenic surroundings.
Research Park: Several tech companies and the University of Alabama in Huntsville are located close by. It's a wise decision if you work in these fields.'
Owens Cross Roads: This neighborhood can be perfect if you'd like a more rural vibe while yet being close to the city. It's got the charm of a tiny town.
Monte Sano: Perched atop a mountain, this suburb offers stunning city views. Hiking routes and outdoor activities are its main draws.
South Huntsville: There are a variety of home alternatives available in this varied location. Parks and commercial malls are also nearby.
The best area for you will rely on your lifestyle and the qualities you want in a house in Huntsville, Alabama, as each of these neighborhoods has a unique character and advantages of its own. (Things to do in Huntsville AL)
Best time to visit Huntsville, AL
Traveling to Huntsville, Alabama is most enjoyable in the spring and fall. Springtime brings mild, pleasant weather along with flowering trees and flowers, which lasts from March until May. It's a fantastic time of year for city exploration and outdoor activities.
Another great season to go is in the fall, which spans from September to November. You may take in the stunning autumnal scenery as the leaves change color and the pleasant weather.
If you don't mind the heat, June through August is an excellent time to visit Huntsville for events and festivals even though it can be a hot and muggy time of year. The coldest season is winter, which runs from December to February, but it's still a good choice if you want to stay away from crowds and take advantage of indoor activities. (Things to do in Huntsville AL)
Therefore, schedule your trip to Huntsville in the spring or fall for the most suitable weather.
Huntsville, AL, truly is the Rocket City, a place where science, history, and adventure converge uniquely and excitingly.
Whether you're exploring the wonders of the U.S. Space & Rocket Center, strolling through the charming streets of the historic downtown, or immersing yourself in the natural beauty of the surrounding landscapes, this city offers a diverse range of activities for all interests.
So, come and discover the fascinating attractions and (Things to do in Huntsville AL) warm Southern hospitality of Huntsville, where every visit is an opportunity to ignite your curiosity and embark on a memorable journey.
Read More: Instructions for Growing and Caring for Cosmos Flowers